I'm embarrassingly non-controversial.
Well, when it comes to baseball anyway. There are no dust-ups here, my opinions are welcoming of all other baseball opinions. I don't like to argue.
Sure, I have controversial opinions about other stuff.  And, I'm sure you'll agree I'm right about all of them.
Hash Browns vs. Home Fries.
Home Fries.
Sylvester vs. Tweety.
Sylvester. Please, Tweety sucks.
Serial Comma vs. the Dangerous Anarchy of Punctuation Without The Sanity of the Serial Comma.
Serial Comma, Serial Comma, and Serial Comma.
Katy Perry vs. Taylor Swift.
Good grief, this is so last year. (But, since you asked: Team Katy.)
Katy Perry Spends Fathers Day with her dad at a Dodgers game.
Working Out vs. Writing About Controversial Things.
Hi.
OK, so maybe I have a pot-stirring annoyance with the Washington Nationals (even though they currently sport three – three! – University of Virginia players … every single one of them in the University of Virginia Baseball Hall of Fame.)
Wahoowa!
Or, as ESPN reported last night (I'm paraphrasing here): "If it weren't for the Braves and the Phillies, the Nationals would be running away with their division."
I wish I had said that. (I know. I sorta just did.)
(Dear Nationals Fans, Simmer down. You're already grumbling about your team and it's not even July. You'll be rooting for the Dodgers in October and you know it.)
But, I'm not anti-Nationals. I'm just annoyed that I lived in DC in those empty no-team years, which is how I ended up permanently tied to the woeful – but no longer terrible – Baltimore Orioles.
(Dear Kansas City Royals Fans, I like you guys and I still remember that impressive sea of blue that turned out for your World Series parade in 2014, after sweeping the AL East champion Orioles out of the post-season, knocking them out of the playoffs on the day that I, unrelatedly, fell down a flight of cement steps and scrambled my back like a misplayed game of Jenga, and am still dealing with the aftermath so that every time my back twinges, I think of cement steps and losing to the Royals, but time heals all wounds, except for the memories of the Royals sweeping and that still lingering twinge in my back thing, but all that aside, with the O's win yesterday and the Royals loss, the O's no longer have the worst record in baseball and the Royals now do, and that makes me happy sad, because as I said 150 words ago, I really like you Royals fans.)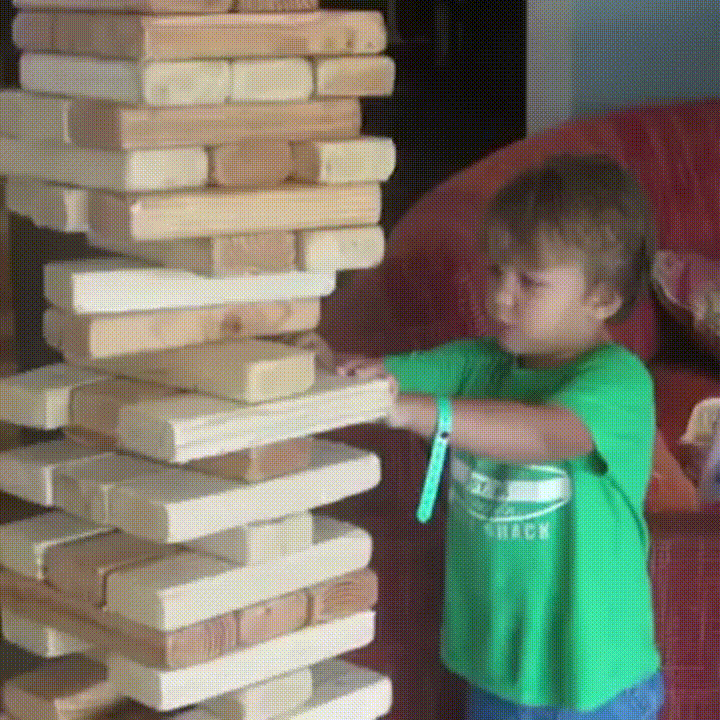 Jenga!
As of June 23, 2018 — Baltimore Orioles win percentage: .307. Kansas City Royals: .303.
Whew.
Yes, the Baltimore Orioles won yesterday.
(They won on Friday night, too, making this a two-game win streak.)
But, this is not about that. Except for this.
The Orioles played the Atlanta Braves – in Atlanta – which meant that, with no Designated Hitter, the Orioles pitchers batted.
Yesterday, Dylan Bundy, the starting pitcher for the Orioles (who won yesterday … still fun to say), batted and singled – his first major league hit.
Exciting!
Whenever an American League team is forced to play under National League rules – or versey-visa – someone grumbles that it's time to either a) get rid of the AL Designated Hitter rule, or b) add the DH rule to National League games.
I've thought about this. A lot. Way too much.
But, now that all the thinking is done, I'm confident I have the right answer.
Baseball has a lot of work to do to clean up its messes – enforcing drug rules, ensuring parity for smaller markets, fair wages for minor leaguers, dwindling audiences, making sure that stupid "put a man on second in extra innings" experiment never makes it to the big leagues. Real messes. But, by golly, the DH/No DH is not one of them.
Let the National League and American League have different rules.
Congratulations, baseball. You're right.
Baseball's dual rules is perfect for a game that has thrived for more than a century with perfect imperfection.
Baseball allows every park to have its own outfield dimensions. Green Monsters, nooks and crannies, even sloping outfields. All fine.
Players can steal bases.
Infielders can shift and play wherever they want.
Pitchers can pitch wherever they want.
(Dear Nationals fans, Hi.)
Anyway, let's not belabor the point. The ability to compromise, when appropriate, is one of the beautiful gifts of being human. (Along with opposable thumbs and the ability to recognize the superiority of home fries over hash browns.)
Who says we can't live together in harmony with two different rules?
Allowing both the DH and No DH rules to stand in baseball is perfect imperfection.
Edgar Martinez, greatest DH of all time, deserves to be in the Baseball Hall of Fame. (What the hell are you people waiting for?)
(Dear Orioles fans, Look … it's unhappy Yankees manager Buck Showalter pulling a pitcher. You recognize that look of resigned disappointment.)
And, yes, it's delightful to watch pitchers bat, too. Here's Reds pitcher Anthony DeSclafani hitting his first home run in a game against the Cubs yesterday. It was a grand slam.
So, what's the problem? Why not have both rules?
You can argue with me about how wonderful the DH rule is, protecting pitchers and giving aging batters a few extra seasons.
And, yes, you're right.
You can argue with me about how important it is that pitchers bat to preserve the integrity of baseball strategy and the integrity of pitchers being all-around players.
Hey, you're right, too.
There. I'm glad we've settled that.
And, here's something else we all can agree on …
This is pretty awesome.
(Dear Nationals fans, I knew you were still reading. Hi.)