"But Howell, the Orioles fan, said: 'This is not an issue of fans not paying attention to the game. To be able to react in an instant to a broken bat or a line-drive foul coming at you at 100 miles per hour? That's why major leaguers get paid millions of dollars. They can do that. Most fans can't.'" ~ The Baltimore Sun, 7/13/2019
This weekend, the Baltimore Orioles announced they would extend the protective netting at Camden Yards from the dugouts to the foul poles. They are one of just a few teams who are proactively addressing fan safety with this decision.
(The Chicago White Sox, Los Angeles Dodgers, Pittsburgh Pirates, Texas Rangers, and Washington Nationals have also announced they will extend netting to the foul poles.)
I was included in The Baltimore Sun's story on this decision and I appreciated having a chance to add my "two cents."
You can read it here.
Since then, I've seen the blowback the team has received from some fans.
Well.
The Baseball Bloggess has a few more cents to add.
***
In 2018, sitting at a college baseball game just beyond first base, a line drive foul  ball came hot off a player's bat. In what seemed like just two seconds, it hit Denise, the woman who always sits on the aisle in the row in front of us. It broke her wrist. Her son was a player on the team. She was, I promise you, paying attention.
***
This spring, sitting at a college baseball game in the same seats as always, another line drive foul came hot off of a player's bat. Editor/Husband quickly leaned right so the ball just grazed his shoulder – instead of his head. It smacked the wall several rows behind us and bounced back hard onto the concrete just a few feet from me. We were, I promise you, paying attention.
I still have the ball – and Editor/Husband. 
"Hmmm … this stitching seems different."
Dear Baltimore Orioles,
This weekend you announced that you will proactively extend the current protective netting from the dugouts to the foul poles.
You should be recognized for your efforts to ensure a safe experience for fans. You should be recognized for acknowledging what 24 other teams have yet to acknowledge, that the speed and force of baseballs today make foul balls – and broken bats – far more dangerous than they were just a few years ago.
Instead, there seems to be some crybabies on social media mocking you for this, complaining about it, and generally being jerks. (I wanted to use a word much stronger than "jerks," but Editor/Husband appealed to my kinder side.)
You did something decent. Something necessary.
I have a few things to say to those people who are trashing the Orioles about this.
Dear You People,
Yes, sporting events have risks – to the players and the fans. But, why not try to minimize those risks when possible?
Injuries to fans are not a new development in baseball.
Errant foul balls have killed fans right from baseball's beginnings.
In 1928 at a semi-pro game in Utica, New York, a father was injured by his own son's foul ball. He was taken to the hospital, patched up, and returned to see his son finish the game. He died of his injuries the next day.
A foul ball off of future Hall of Fame pitcher Bob Feller in 1939 hit his mother above her eye and sent her to the hospital. On Mother's Day.
So, agreed. There has always been a risk of injuries.
There's lots of risk in this world. Shouldn't we try to mitigate those risks when we can?
Diptheria, a bacterial infection, was one of the leading causes of death in the early 20th century. Today, a vaccine has nearly eradicated the disease in the United States.
See what we do? We try to improve quality of life for everyone. We try to protect people.
And, if that means protecting a kid from getting hit in the face by a line-drive foul ball coming off a bat at more than 100 mph, then shouldn't that be what we do?
Wait. Are you still arguing with me? Ok, sure, you won't be able to rudely elbow the people next to you, dump your beer and nachos on the fans sitting in front of you as you lunge wildly for a foul, and then dance around like a marionette when you catch it. Yeh, I'm really sorry for you.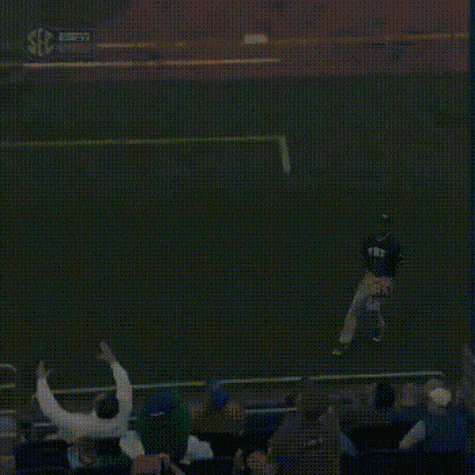 Mascots will be protected, too!
Some argue that fans need to pay more attention to the game; it's our responsibility to ensure our own safety. This "blame the victim" mentality is just your way of convincing yourself that it could never happen to you, because you always pay attention. It could happen to you.
Line drive fouls coming at you at 100 miles per hour and shattered bats are no joke and, I hate to tell you this, but you're not as fast as you think you are.
Your fan experience isn't going to be ruined by protective netting. Your view isn't going to be that obscured. (If netting was so intrusive no one would sit in the seats behind home plate, right?) If you want to see everything clearly, why not think twice before you buy that fifth beer?
Players have already figured out that they can still toss balls over the netting to fans between innings.
The Nationals are installing netting that can be lifted before games so that kids can still interact with players and get autographs.
Bleacher seats and Baltimore's "flag court" are still primo spots for catching a home run ball, if that's so important to you.
Teams and players will figure out ways to continue the interactive connection between the game and fans.
And, you know what? One day you'll be sitting at a game and a foul ball will smack the netting close to where you are. And, your face won't be broken. And, your child won't be badly injured. And, you won't drop your beer and nachos on the people in front of you. See? Everybody wins!
So now, Orioles, back to you. And, the netting. Thank you for doing the right thing.
Oh, and P.S. Thank you for winning a game yesterday.
Gratefully Yours, The Baseball Bloggess