Well, hello.
Would you look at us … me, the eternal optimist Orioles fan, holding the door open for you (again) as you step into the train of Off-Season Losers.
Embed from Getty Images
Welcome aboard. We've been expecting you.
But, look at the bright side. Twenty-seven other teams will be bunking here with us this winter. (There's only one team that won't get on the Loser Train. And, I hope it's the Braves … they're jam-packed with former Orioles, you know.)
Beloved One-Time Oriole Nick Markakis!
Anyway, we'll be a train filled with all sorts of cool people. Losers. But, cool. Think of all the fun we'll have!
Mike Trout! He's already here.
And, look, there's Jacob deGrom. His pitching might be Cy Young worthy, but he pulled in early with the rest of the Mets to get a good seat.
(But not as good a seat as me! I've been here for weeks now. Weeks.)
(Months.)
There's no shame in the Loser Train.
(There is shame. I'm just trying to make you feel better.)
Everyone expected the Orioles to be here. The Orioles were losers from Day One.
Oh, wait, what? Sports Illustrated predicted the Nationals would win the World Series?
Really?
Sports Illustrated, April 2018
Well, that's embarrassing.
(Can I just take a moment to note that my crack team of baseball "experts" predicted in April that the Colorado Rockies would win the World Series? You laughed and laughed. With five games left, the Rockies are currently heading to the post-season. The Nationals are not. So, in fairness, even if the Rockies don't make the post-season, my team of experts — which included a cat — are still way smarter than Sports Illustrated. Which I always knew.)
And, I hate to be the one to tell you this, but Sports Illustrated just threw you under the bus.
Brrr … Did it just get really cold in here?
We've discussed the Nationals' problems before, you and me, but you don't listen.
You don't believe that your Racing Presidents could be part of your problem. (They are.) Or, that little thing about the camels your manager brought to Spring Training? (Big mistake.)
So, let's talk about one other problem that plagues your team.
It's you.
Embed from Getty Images
Even George is a little disappointed in you.
Let me explain this in a way that you Washington insiders will understand – with statistics that have the air of truth to them but are entirely made up.
Here's the deal – it's you, dear Nationals Fan. It's you and your fake Natitude. #FakeNats
Let's break it down.
90% of you aren't from Washington. You're from somewhere else. Places that you cheekily refer to as "Outside The Beltway," but we baseball fans know them by their other names …
Wrigleyville, Red Sox Nation, Dodgertown, CubsLand, TwinsCity …
You get the picture. You might be wearing a curly W on your cap, but underneath your Bryce Harper jersey is … a retired Jason Werth jersey. But underneath that is a fraying Red Sox tee-shirt that you've been wearing since high school.
That's 90 percent of you. You're only cheering for the Nationals because they aren't playing the team you really cheer for.
Some of you Natterlings have already stopped reading this to go check on cheap flights to Chicago's post-season … or Boston's. See. I knew you were just fakers. #FakeNats
The other 10 percent of you?
That other 10 percent have been in Washington for awhile. You know who you are. And, you know who you were.
You were Orioles fans. You zipped up I-95 … or took the far easier BW Turnpike … all summer long back then.
You parked at Lake Montibello, just a quick walk to Memorial Stadium. You knew that parking lot was there because Roll Call, the newspaper for wonky Washingtonians, told you it was there. Today, the Camden Marc train takes you from Union Station straight to Camden Yards. You know the route. You cheered for the Orioles. You drank cheap Natty Boh beers and you cheered for Eddie Murray. You cheered for Cal Ripken.
You spelled out O-R-I-O-L-E-S between innings and sang "Thank God I'm A Country Boy" even though you aren't and that song is stupid.
Fun Fact: National Bohemian – Natty Boh – beer is now owned by Pabst Blue Ribbon. It is not brewed in Baltimore.
And then in 2005, as soon as the Nationals came to town, you dumped the O's. You dumped the American League. The O's were there for you when DC had no team. But, as soon as you had the chance you dumped them.
No one likes a dumper. #FakeNats
That's the problem, NattyBoo. There are no real Nationals fans … there are just kinda-sorta Nationals fans.
There's another team you really love. Or, a team you cruelly jilted.
Everyone knows there's another team in your heart. You are #FakeNats. And, until you fix that, the Nationals will be cursed. By you.
And, the camels. But, also you. But, mostly the camels. (And, you.)
Anyway, no hard feelings. Climb aboard Nats fans. You're losers just like us.
Oh no, don't sit there. I'm saving that seat for the Yankees.
Sincerely, Your Friend Who Cares So Much For You That She Has To Tell You The Truth Because It's For Your Own Good, The Baseball Bloggess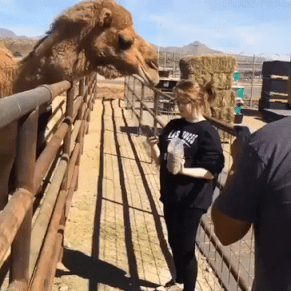 P.S. Never Trust A Camel.